Main Content
About the Role
The Director of the University Counseling Center serves as the chief mental health officer for a campus of 7700 students, along with a large variety of campus partners and colleagues. The Director serves on the Vice President of Campus Life's Leadership Team, the Assistant Vice President for Health & Wellbeing's Leadership Team, and a variety of interdisciplinary teams and task forces (CARE/Threat Assessment; Incident Management Team, etc.).
The position serves a crucial role on campus: providing expert clinical and administrative supervision to the center's mental health providers (including direct supervision of four senior providers that represent the center's broad areas of focus: Clinical Services, Training, Community Engagement, and Specialized Services), clinical service to clients as needed, coordinated individual and group crisis response, and strategic partnership with staff and faculty and direction to address the short- and long-term mental health needs of the university community.
View full job description on our Human Resources Employment website.
Position Prospectus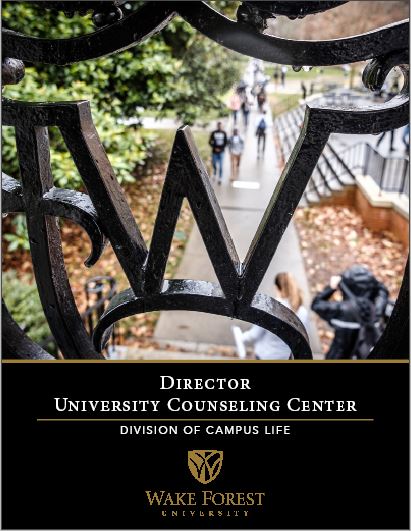 Download (PDF)
Application Process
Review of applications will be ongoing until the position is filled, with a priority review date of August 3, 2020. Inquiries and nominations can be directed to Dr. James Raper at raperjd@nullwfu.edu.
Applicants can find the full position description and application instructions on the Wake Forest University Staff Employment Opportunities website. Candidates are asked to provide a resume and cover letter, attached individually via the application portal.

Questions regarding the application process can be directed to
WFU Human Resources:
336-758-4700 or askHR@nullwfu.edu