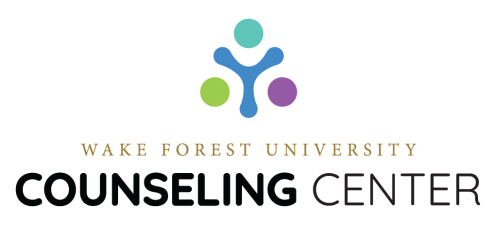 ---
For Life-threatening Emergencies
Call Anytime: 911 or 336.758.5911
---
For Urgent Mental Health Crises
Call Us Anytime:
336.758.5273
or log into:  timelycare.com/wakeforest
---
To Make an Appointment
Call Us During Office Hours: 336.758.5273
or log into:  timelycare.com/wakeforest
Note: If after-hours or busy, please leave a message and we will return your call as soon as possible
---
Confidentiality
All UCC staff place a high priority on privacy and confidentiality. All communications between a client and a counselor, including the decision regarding whether or not to seek counseling, are confidential to the full extent provided by law and are not released outside the University Counseling Center without a voluntarily signed consent.
In North Carolina, mental health providers may be required to break confidentiality if there is concern about: 1)the imminent safety of a client or other identified party; 2)if there is reasonable concern about the possibility of abuse of a vulnerable person; and/or 3) if ordered to release information by a judge.
Group Counseling
Understanding Self and Others (USO): Process-oriented groups for students dealing with a variety of concerns (depression, anxiety, stress, relationship struggles, etc). A space to connect with others, explore patterns of how you relate to yourself and others, change unhelpful behaviors, and develop greater insight and acceptance. Current times: Mondays 3:00-4:30 PM, Tuesdays 3:00-4:30 PM
When They See Us: Centers on experiences of students who identify as Black and/or African American at WFU. Offers tools to enhance a sense of belonging. Provides a safe place to process experiences which could impact retention, increased representation over time, and the healthy release of negative socially constructed connotations associated with being members of marginalized and minoritized populations. Current time: Mondays 1:00 – 2:30 PM.
Anxiety Toolbox: A 3-week workshop which focuses on helping you understand and manage anxiety. Modules include: (1) understanding anxiety, (2) slowing down and disentangling the experience of anxiety, and (3) developing alternative responses to anxiety. By the end of the workshop, you will have your own individualized plan for managing anxiety. Current time: Mondays 3:00-4:30 PM.
Grad Student Group: A group for graduate students that aims to foster increased self-awareness, connection to others, and opportunities to receive support and feedback as personal experiences are shared with peers. Tuesdays 1:00 – 2:30 PM.
Goodbye ED: Support group for people in recovery from eating disorders. All genders welcome. Group members will be led through discussions and activities to facilitate and support improved relationships with food and body. Goodbye ED is a group grounded in health at every size (HAES) principles. Current time: Wednesdays 3:30-5:00 PM.
Sister Circle: A group centered on the experiences of Black Women. A space to discuss anything salient to your life and experiences. Topics may include Imposter Syndrome, the Superwoman Complex, vulnerability, self-care, and being Black at WFU. Current time: Thursdays 3:30-5:00 PM.
Family Matters: Family is not always a source of support in our lives. This group is a space to talk about how family experiences have impacted you and your ability to connect with others. Day/Time TBD.
Survivor Support Group: The Safe Office is offering a weekly confidential support group for survivors of interpersonal violence open to all genders. Members will engage in survivor-led group processing and explore psychoeducation about trauma. Available for undergraduate and graduate students. Contact Bethany Miller, millerb@nullwfu.edu, or Stephanie DeAngelis, duistes@nullwfu.edu, for more information!
Please fill out a group interest form if you would like to join one of our groups.
Individual Counseling
Short-term individual counseling is available at no cost for various personal issues including: adjustment to university life; stress management; interpersonal relationships with friends, family, or peers; anxiety; depression; concerns related to alcohol or other drug use; and disordered eating and body image issues. The UCC provides confidential counseling within a brief therapy model to ensure all students have the opportunity to access our services within a reasonable amount of time. Note: Please review this information if you are coming to the UCC to request an academic accommodation or relief.
Mandated Assessment
As a result of the university conduct or other administrative process, a student may be required to attend a one-session assessment related to either alcohol/other drug misuse or personal safety. An administrator may ask the student to sign a release of confidentiality form related to attendance only, so that the counselor conducting the assessment can confirm that the student attended the session. No clinical information (content of session or specific recommendations) will be required to be shared, though a student may choose to have their counselor convey more detailed information. Students attending an alcohol/other drug misuse assessment as a result of a conduct hearing will be required by the Dean of Students Office to provide documentation of compliance with the recommendations of the assessment.
Referrals
UCC staff can assist in referring students to off-campus providers when requested. We keep an excellent updated list of mental health providers and specialists in the Winston-Salem/Greensboro area. Students seeking referrals to complete an alcohol/other drug misuse assessment can find a comprehensive list here.
For information or to schedule an appointment, call the University Counseling Center: 336.758.5273