Returning to the University after Withdrawal for Psychological Reasons
For all Reynolda Campus students (undergraduate and graduate/professional) who plan to return to the university in the future after a withdrawal for psychological reasons, you are required to provide documentation from a licensed mental health professional of your readiness to resume all student-related activities. Please share this form in English or Simplified Chinese with your provider as soon as you initiate the treatment relationship so that the professional has adequate opportunity to assess your readiness. Have your provider follow the directions for completion and return to the University Counseling Center described in this document. The Director of the University Counseling Center or his designee will evaluate the information provided, and make a recommendation to the Committee on Academic Affairs, or relevant graduate/professional school Dean or committee, who makes the final decision.
Undergraduate students should contact the Office of Academic Advising with any questions related to a leave from the university. Students from Wake Forest University graduate and professional schools on the Reynolda Campus should contact relevant program administrators.
Reduction in Course Load, Late Drop of Class(es), and Withdrawal from the University for Psychological Reasons
The UCC does not provide letters of support at the time of the triage assessment or initial visit, and students should not seek services at the University Counseling Center for the sole purpose of obtaining a letter to support a reduction in academic course load or withdrawal from classes. The UCC typically provides documentation regarding a student's mental health only when the student has been receiving on-going treatment at the UCC concurrent to the time in question.
Students requiring such documentation who have not been seen at the UCC are advised to obtain letters of support from mental health professionals or medical providers who have been involved directly in their mental health care for the relevant time period. This documentation can be sent to the Director of the University Counseling Center or the Director of the Student Health Service for review and subsequent communication to the Office of Academic Advising and/or Committee on Academic Affairs, or relevant graduate/professional school Dean or committee.
For information about the UCC's policy on providing documentation for emotional support animals (ESA), please visit our Scope of Service page.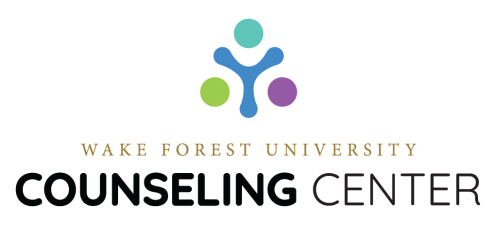 For Life-threatening Emergencies
Call Anytime: 911 or 336.758.5911
---
For Urgent Mental Health Crises
Call Us  Anytime: 336.758.5273
or log in to timelycare.com/wakeforest
---
To Make an Appointment
Call Us During Office Hours: 336.758.5273
---
---