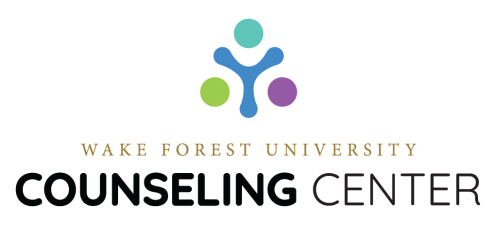 ---
For Life-threatening Emergencies
Call Anytime: 911 or 336.758.5911
---
For Urgent Mental Health Crises
Call Us Anytime: 336.758.5273 or log in to timelycare.com/wakeforest
---
To Make an Appointment
Call Us During Office Hours: 336.758.5273
or log in to timelycare.com/wakeforest
Note: If after-hours or busy, please leave a message and we will return your call as soon as possible
---
Scope of Service
The University Counseling Center (UCC) is comprised of generalist mental health professionals (licensed professional counselors and psychologists) who provide short-term clinical assessment, consultation, and counseling/ psychotherapy for Wake Forest University students.  The UCC's model of care allows us to support and treat students for the majority of their concerns. Generally, the UCC offers face-to-face modalities of counseling for students: 
when the UCC's short-term, goal-focused counseling approach is likely to be effective,

when the frequency and number of appointments based on assessed student need can be accommodated by the UCC, and

when the student is freely choosing to access treatment.
Connecting to Off Campus Care
When either the student or UCC mental health professional identify that the student's clinical needs are outside the UCC's scope of service or would be best served via off-campus medical and/or mental health providers, UCC professionals will provide referral options to students. This Student Guide to Off-Campus Referrals may also be helpful for students to review. In general, student concerns are outside of the UCC's scope of service when, in the opinion of the UCC's treating professional: 
the UCC's short-term, goal-focused counseling approach is likely to be, or has shown to be inadequate, ineffective, or harmful;

the student can be helped more by another office, service, or specialist on or off campus;

the student's counseling needs are best met by therapists that offer exploratory, or supportive care, often "long-term";

the student is not able to meet for therapy at the UCC's office located on the Reynolda campus;

the student is seeking a full psychoeducational or forensic evaluation;

the student is required to produce a recommendation from a mental health professional to a court of law or government agency; or

the student needs higher levels of care (partial program, inpatient treatment, etc.), more frequent counseling, or specialized care that the UCC does not provide; 

Some examples of situations like this include chronic or acute eating disorders, active addiction (alcohol, drugs, sex/porn, gaming), medication management, and severe mood and anxiety disorders that are likely to require weekly therapy for a year or more.
The UCC's services may not be available to students where a student: 
fails to call/e-mail to reschedule/cancel three consecutive appointments with more than 24-hours notice; 

is already in the care of another clinician; 

presents a reasonable threat to the safety of a UCC staff member; or

when there is litigation against the University Counseling Center or the University related to the services provided by the UCC (as these become ethical conflicts of interest).
The UCC will provide referral options to students in these circumstances as well.
Requests for Emotional Support Animal (ESA) Documentation
In order to adhere to best practice recommendations, the University Counseling Center does not offer documentation to support Emotional Support Animals as a form of therapeutic intervention. 
The diagnosis of a psychological disability resulting in a prescription/endorsement for an Emotional Support Animal is a complex process that requires long term care in order to adequately assess the presence, intensity, and duration of symptoms and any ensuing impairment. Additionally, evaluation of how the interaction between a person and a specific animal are therapeutically sound require time and a skill set better provided by off-campus specialists. 
Students that are interested in obtaining documentation of a disability with a prescription/endorsement for an Emotional Support Animal may seek this documentation from a prior medical or mental health provider. Application forms for an Emotional Support Animal in on-campus housing are available from Wake Forest University Residence Life and Housing.