Main Content
'Tis the season of coffee, blue books, yoga pants, and all-nighters.  Exam week is the culmination of a tough and stimulating semester for most students, and in the UCC is also means that it's time for our staff and Student Mental Health Ambassadors to come in early and stay late so we can dress up like fairies.  Makes total sense, right?
Three years ago we started the tradition of donning wings, tutus, and tiaras and meeting students where they are on campus during finals:  South Campus residence halls for pizza, ZSR and Farrell one morning for donuts, and (my favorite) an evening again in ZSR where we carry bags and bags of snacks and go up to every student we see.   Based on the Subway napkins and Starbucks lids amassed, some may have been there for days.
For our newer participants in this outreach, they are struck by the purely authentic gratitude shown by the students with whom we come in contact. There are lots of "Thank you so much!", "I just ate, but I love your outfits!", and "This is so nice!".  Selfishly, one of my favorites is watching a student walk around the corner – sometimes with earbuds in, or with their nose in a book – and then they look at this 6 foot tall, middle aged, bearded guy in full fairy regalia and break out into laughter and delight.
Regardless of the reactions though, there really is intention behind this merry band of fairies:  it gives us an opportunity to de-stigmatize counseling and mental health, we model the importance of play and laughing at oneself, and obviously give students even a few moments to experience of our love and care for them.  I'm not sure who among the staff enjoys it the most (ok, it's me), but over the last few years it has become clear that everyone wins when the #examfairies come out to play.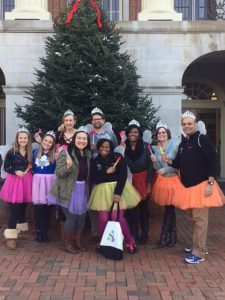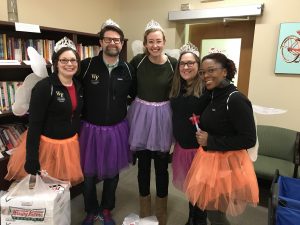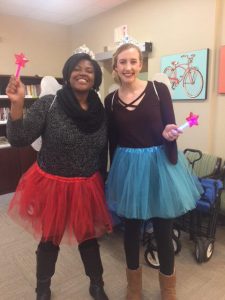 Recent Posts
April 21, 2020

March 17, 2020

November 6, 2019