Main Content
[Guest Post by Emily Palmieri, Staff Counselor and Coordinator of Eating Disorder Prevention Services]
Have you seen the "Who are the Illusionists?" signs and wondered what that's all about?  Part of the Wake Forest University Counseling Center's mission aligns with promoting a community of inclusivity for all bodies that naturally range in shape, size, color, and appearance features. On Wednesday October 18th, we are taking another step in that direction by bringing internationally renowned documentary filmmaker Elena Rossini from Italy to our campus for a live screening and discussion of her film The Illusionists.
This captivating documentary was filmed in eight different countries on three continents to represent the global impact that the marketing industry has had on unsuspecting consumers who have been manipulated into insecurity to create a product need and demand.  Joss Whedon (film and TV director, screenwriter and producer of works such as The Avengers and Buffy the Vampire Slayer) has promoted this film by claiming it to be, "A revelatory primer on the global manipulation of perception and consumption, The Illusionists should be required viewing in every school- and possibly every home."
Students will be able to watch the film in a safe environment with the nourishment of tasty snacks and beverages while interacting with the writer, producer, and director herself!  Several WFU providers who specialize in eating disorders/disordered eating will be present for an interactive panel discussion. Students will also have the chance to voice their concerns and questions, inclusive to those who are comfortable with standing aloud to speak and to those who aren't prone to public speaking and would rather write their questions and concerns on anonymous cards to join in the dialogue.
To learn more about the event and sign up, please go to the Counseling Center's Body Positive webpage.
You may also see Elena Rossini around campus the day of and the day after the event. If you'd like to talk with her, feel free to say hello or contact Emily Palmieri to see if a group coffee or walk can be arranged during her time in Winston-Salem.
 The Illusionists film screening and discussion
Date/Time: Wednesday 10/18 at 6pm
Location: Pugh Auditorium in the Benson Student Activities Center
Registration is highly encouraged to ensure we have enough food and drinks!
go.wfu.edu/bodypositive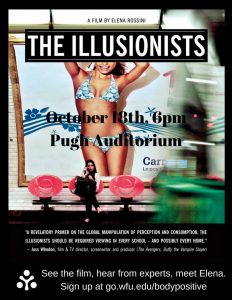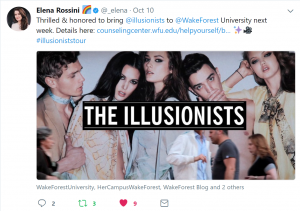 Recent Posts
April 21, 2020

March 17, 2020

November 6, 2019