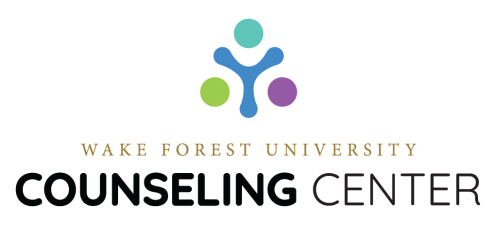 ---
For Life-threatening Emergencies
Call Anytime: 911 or 336.758.5911
---
For Urgent Mental Health Crises
Call Us Anytime:
336.758.5273
or log into:  timelycare.com/wakeforest
---
To Make an Appointment
Call Us During Office Hours: 336.758.5273
or log into:  timelycare.com/wakeforest
Note: If after-hours or busy, please leave a message and we will return your call as soon as possible
---
There are three main options for care management to keep in mind as you decide which methods are right for you:
OPTION A: WAKE FOREST UNIVERSITY COUNSELING CENTER
Short-term individual counseling is available at no cost for various personal issues including: adjustment to university life; stress management; interpersonal relationships with friends, family, or peers; anxiety; depression; concerns related to alcohol or other drug use; and disordered eating and body image issues. The UCC provides confidential counseling within a brief therapy model to ensure all students have the opportunity to access our services within a reasonable amount of time. Note: Please review this information if you are coming to the UCC to request an academic accommodation or relief.
This option might be best for you if: the University Counseling Center has the full range of services you need and/or you need only intermittent visits. If needed the UCC staff can consult with your treatment providers at home to help you determine this.
OPTION B: OFF-CAMPUS CLINICIAN NEAR WAKE FOREST UNIVERSITY
The University Counseling Center can help with referral suggestions that fit your clinical needs, as recommended either by UCC staff or your clinician(s) at home.
Make sure you have insurance and/or adequate funds to pay for this private care.
Make sure there is an adequate handoff of clinical information (see below) between your home clinician and your new local clinician.
If you choose to keep in touch with your clinician from home for advice, you should work out parameters for communication with home clinician and your new clinician.
Even if you obtain care off campus, you should still establish relationships with the campus counseling service and disabilities offices, in case of emergencies.
If possible, you and your family can try to meet the off-campus clinician before going to school and have a plan set up in advance.
This option might be best for you if: you need long-term and regular face-to-face visits and you have the resources (e.g., insurance, funds, transportation) to seek services off campus.
OPTION C: CONTINUE CARE WITH CLINICIAN(S) FROM BACK HOME
You and your family should discuss with your care team whether this is an option.
Things to consider include:

Will you be too far from home?
If you take medication, how will you get it?

Even if you choose this option, you will still want to have a connection with the University Counseling Center and Learning Assistance/Disability Services because:

You might have an urgent need that they can help with
You may need them to help with academic accommodations or planning your specific transition to college

There should be an arrangement to share information as needed between your home clinician and campus-based providers.
This option might be best for you if: you are addressing a concern that needs a specific type of treatment and/or and are very comfortable working with your current treatment team and it is convenient to be in regular contact.
SOME KEY THINGS TO DO REGARDLESS OF THE OPTION YOU CHOOSE:
Regardless of your choice, the University Counseling Center is always available to you for any crisis or consultation services you might need.
Make sure everyone involved is clear on all the details for your follow-up care.
Make sure there is agreement all around about specific parameters of care: how often, who is lead clinician, how will changes in treatment be handled, etc.
Make sure a communication plan is agreed to and clearly spelled out.
Make sure proper releases of information are filed with necessary clinicians and offices. Be specific as to when, under what circumstances and how information will be shared in the event of a problem or emergency. These should also specify when family or other guardians will be contacted.
Make sure everyone knows what to do in case of an emergency.
In addition to a general communication there should be a clearly written plan for managing crises should they emerge. Questions regarding who will make clinical decisions, who is primary family contact and when should they be called should all be clearly agreed upon. These plans are called advance directives and you can read about them by clicking here: http://www.mentalhealthamerica.net/psychiatric-advance-directives-taking-charge-your-care
Make sure you know how to describe your prior care, current needs, and medications, and that your records are sent to the offices and clinicians with whom you'll be working.
Make sure to know what insurance you have and how to use it.